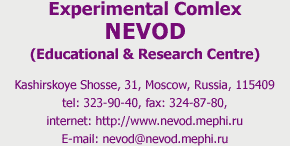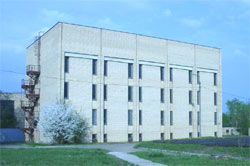 Experimental Complex NEVOD (Educational & Research Centre) is created for performing of scientific work on priority directions of basic research and training of undergraduate and postgraduate students in real conditions of contemporary physical experiment. The complex includes a number of unique physical detectors and installations, not having analogues in the world, and also the system of test benches for conducting scientific studies and training the students.

NEVOD, as a new type educational and research centre, was organized with the support of Ministry of Education, Ministry of Industry, Science and Technologies, and Ministry of Atomic Energy of the Russian Federation. Its creation was marked by the award of President of the Russian Federation in the field of education for 1997.



April 2, 2013
On results of competition in 2011 the medal of the Russian Academy of Sciences for the best student work in the field of nuclear physics was awarded to I.A. Shulzhenko.
March 15, 2013
On the results of the competition named after V.G. Kirillov-Ugryumov the diploma work of Kovylyaeva E.A. "Study of the response of CWD NEVOD on the passage of the muon component of cosmic rays" performed in the SEC NEVOD have taken the 2nd place.
February 22, 2013
Defense of the diploma projects performed in SEC NEVOD by the students of the 6th year of the faculties ETF, HPC, HSP and A was held.